Deja Vu – Why Hiring Keeps Failing (Part Two)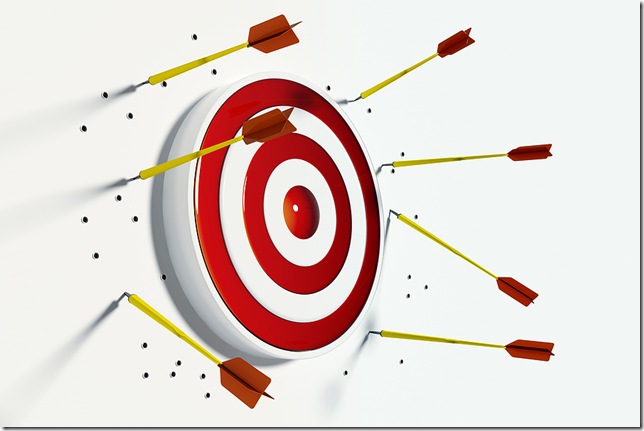 Why is it when you take aim in your hiring process, it's so hard to hit the target on a consistent basis?
This client I referred in my last post which had a painful history of executive level hiring failure –  brought us in to assess and evaluate their hiring process.
Raise your hand if some of these issues are causing your company to make hiring mistakes.
Here are the top issues we identified, not in a particular ranked order:
Hiring was the only process in the company that had NOT changed or been updated since the company started more than ten years ago.
Hiring was the only process in the entire company that was NOT performed according to a documented process or methodology.
They were using outdated sourcing, screening, and interviewing techniques that required NO training or expertise.
There was NO uniform, specific process to assess candidates and evaluate them against each other.
There was NO marketing plan to attract good candidates.
The company concentrated mainly on applicants who applied after seeing an advertisement.
There was NO accountability for bad hires (or good ones, for that matter).
They had NO process for establishing goals for an open position before they hired the candidate.
These issues are common in the vast majority of companies – regardless of industry, geography, or size. After engaging with over 35,000 CEOs and executives in the last 25 years through our workshops and consulting, over 75% of the companies had at least 3 or more similar issues regarding their hiring process that were causing hiring mistakes and errors.
For their next (and hopefully last, at least for a long time) VP of Sales search, the CEO needed a methodology and process to help him determine how a candidate's past achievements and accomplishments directly related to the results he expected.
And he needed a quantifiable way to rate candidates – both "in a vacuum" and against each other.
Prior to starting the search for a new Vice President of Sales, we conducted our Success Factor Methodology Workshop which carries the same title as our book, "You're NOT the Person I Hired", for the company's senior leadership team (You can learn more about our most popular hiring workshop by clicking here).
As a direct result, the company revamped their hiring process using many of the techniques and tools we've been describing for the last two decades in our book, "You're NOT the Person I Hired", our HIRE and RETAIN blog right here, our FREE Internet Radio Show, and the numerous FREE templates, examples, and tools we provide on our website.
The results from this search were exceptional. The VP of Sales we helped the company locate and hire was still in the job three years later, and according to the CEO, doing an outstanding job.
Did we conduct an effective Executive Search – yes. Could another firm have done an equally good job – probably. What made a huge difference was the hiring process improvement the company implemented to be able to hire an outstanding executive for this role and then extend that process to every other position within the company.
Here's a few questions to ponder about your hiring capability:
How strong is your hiring process?
Do you have capability to consistently hire top talent for every open role in your company?
What's the batting average on hires at your company – candidates hired who actually deliver against the expected results?
Is it time you got a hiring check-up?
Barry
P.S. Don't forget to join our LinkedIn Discussion Group for Hiring and Retaining Top Talent where the discussions range from finding great people to implementing best practices in hiring.