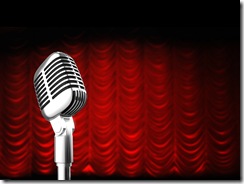 If you are a manager or executive, you might be interested in two of the programs Brad and I are hosting this week
Brad I will be hosting our weekly Internet Radio Talk Show today for Hiring Managers and Executives titled "Upgrading Your Team During the Recession" at 11-noon PDT on LA Talk Radio. You can listen in and also pose questions live during the broadcast.
We'll be taking your emails and live calls to discuss the steps you should be taking right now to upgrade your team so that when you emerge from the recession, you'll have a powerful team capable of propelling your business or team forward as a strategic advantage.
On Friday, we will be putting on our popular one hour webinar presentation based on our half and full day training program titled "You're NOT the Person I Hired". You can register for this webinar by clicking here.
We'll provide an overview of our award-winning workshop that teaches the Success Factor Methodology. This hiring process has been implemented in thousands of companies around the world with validated success in dramatically raising hiring accuracy and improving the ability to hire top talent at every level.
We hope you'll join us for one of these programs this week.
Barry