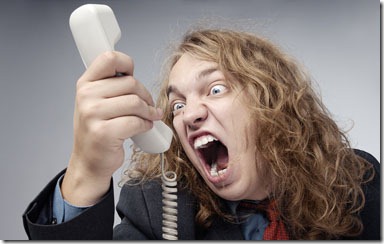 Be ANGRY that your employees are NOT performing at a higher level than expected. Be ANGRY that your executives and managers are NOT hiring outstanding talent at every level. Be ANGRY over hiring mistakes.
In a blog article published on the Chinnovate.com blog, Tim Yanglin quoted a McKinsey Study looking at the productivity difference between average and mediocre employees. This study was done with major corporations. My perception – although I've not quantifiably tested it – is that in small businesses and entrepreneurial companies, top talent is more productive than average talent – sometimes by a factor of 4X-10X. Here's the study the author of the blog article quoted:
Global consulting firm McKinsey, for example, reports that top performing executives deliver more than twice the productivity of average performers.

The report continues to identify that it takes a mix of top performing executives and leaders to pursue and implement a variety of growth strategies, which will lead to consistently superior results. On the other hand, McKinsey found no measurable correlation between revenue growth and teams with solid but unexceptional leadership; mediocre or B-level players will deliver average performance.
If the gap is so large, why do you allow your executives and managers to continue to hire underperforming, average, and mediocre employees? Let's take this one step further – why do you allow these individuals to remain on your team?
Get angry over this issue. Make hiring top performers a key initiative instead of falling victim to desperation hiring, making multiple mistakes in the hiring process, and taken anyone who basically shows up at your doorstep.
Everyone complains about their team, hiring, performance, and productivity. Next to talking about your ailments, this probably ranks up there for executives as their next biggest "whine". Let's stop whining and start doing something about it.
In 25 years of executive search, over 1000 search assignments, 250,000 candidates interviewed, and over 35,000 executives and managers who have seen our workshop program titled, "You're NOT the Person I Hired", most companies give the concept of hiring great employees lip service. Their actions don't match up with their words.
Here's a quick test to determine if your actions match up with your words:
Do you set performance expectations for all employees?
Are the performance expectations in place before searching for a new employee?
Do you have a structured program of rewards and consequences for meeting or missing expectations?
How many people on your team right now are NOT living up to your performance expectations? Do you written performance improvement plans for each one?
Are all your executives and managers well-trained on how to use best practices in hiring to find, interview, and select top performers for their teams?
If you answered NO to more than 2 of these questions, perhaps it's time for a "check-up" of your hiring practices. You can download our FREE hiring process self-assessment checklist to determine if your organization is capable of hiring top talent.
Click here to download our one page hiring self-assessment to conduct a check-up on your hiring process.
You should be angry over these issues – both at yourself and your executive team – for allowing it to happen. Stop just letting hiring "happen". Drive better company results by being the visible and LOUD champion of hiring and retaining top performers.
Here's the key: the quality of employees in your organization determines your "glass ceiling". If you have average and mediocre people, then your results will be mediocre and average. If your not getting exceptional performance within your industry or market – beating your competitors every day and generating above average metrics in revenue, profit, and operational excellence, then perhaps it's time to take a look at the quality of your team.
Barry Deutsch
PS – Don't forget to get your FREE digital copy of our best-selling book on hiring, You're NOT the Person I Hired