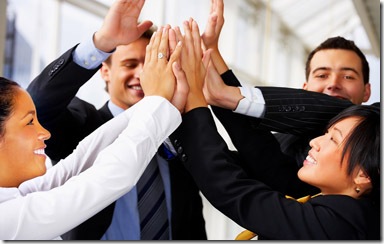 As an Executive Recruiter, Trainer, and Hiring Process Consultant, I have the privilege of visiting over 50 companies a year and getting to know their executive and managerial teams. I've been doing this for over 25 years.
That's a lot of companies.
Is Your Culture De-Motivating?
I am dumbfounded why so many company environments and cultures are de-motivating. Many company environments and cultures could be described as painful, suffocating, soul crushing and (insert here any word or phrase that conveys negativity).
These company executives then ask me why they are having so much difficulty in attracting and keeping great talent at every level. Duh!
It doesn't have to be that way. We can climb out of the pit of a dysfunctional and de-motivating culture. It starts with the people who are in charge of managing others in your company.
I was reading one of the blogs we've identified as part of our best practice collection on workplace issues, The Smartblog on Workforce.

A guest post caught my eye talking about such fundamental basics in motivation that I wanted to slap my forehead.
Fundamental Elements of Motivating Employees
Sometimes, companies make the process of motivating employees, engaging employees, hiring and retaining great employees – for too complex and difficult.
The guest author was Arne Nathan, who publishes his own blog titled "The Arte of Motivation".
Let me summarize a few key points that Arne made in his guest post.
Welcome Employees Every Day
Follow the Golden Rule
Explain "why"
Catch People Doing Things Right
Ask Questions and Really Listen to the Answers
Be Fair These simple guidelines or elements could transform your culture. Some of my clients instill these behaviors in their managers and executives, embed these core motivating concepts in the fabric of their culture.
Tough Questions Regarding the Motivation of Your Employees
Here are 6 tough questions that might cause you to lose a few hours a sleep. Are you asking these questions in your company? Is one of your key executives asking these questions? If no one is asking the questions, your culture might be headed in the wrong direction?
Are your managers and executives required to demonstrate competency in a comparable list to the one described above?
Do you train your managers and executives in how to motivate, such as applying the golden rule, or teaching them to explain the "why" of their directions/requests?
What techniques do you use to teach managers and executives to catch employees doing things right?
Listening is one of the most important skills a manager or executive can possess. Do you continually train around deep listening skills?
If you did a 360 review, would your managers and executives get high marks for motivating or would they be tagged as de-motivating?
When was the last time you gave your culture/environment a check-up from the neck up? Is it possible that there is a disconnect between how you perceive the culture and how your rank-and-file perceive it?
Implications for a De-motivating Culture and Next Steps
I've been crying "wolf" for sometime about the coming wave of turnover most companies are about to face as the job market begins to reverse itself from an employer's market to a candidate's market. We've got about 6-12 months before the shift occurs.
Are you ready for some of your best talent to bolt once more jobs start to open up? Now might be the time to revamp your culture and environment so that you can emerge from the recession with a highly motivated workforce.
Starting right now – what's your first step?
Shoot me a note or fill out our contact form and ask for one of our audio programs on motivating and engaging your workforce.
If you're a member of Vistage or TEC, have your Chair book our "You're the Person I Want to KEEP!" Speaker Program.
Review the wealth of information in the Vistage Library on Culture, Motivation, and Employee Engagement.
Create an action plan to improve one dysfunctional element of your culture.
Conduct a 360 degree review of your management team or do a employee satisfaction survey.
Join our LinkedIn Discussion Group for Hiring and Retaining Top Talent and benchmark yourself against some of the processes, tools, and methods other companies are using to motivate and engage their employees. These are but a few of the hundreds of things you can start to do to create a motivational foundation within your company to begin to create a passionate and engaged workforce.
To read the full article by Arne Nathan, click the following link:
How good managers keep their workers smiling | SmartBlog on Workforce
Barry Deutsch
P.S. Download our FREE Culture Assessment to discover what your culture says about your company – and your ability to hire and retain top talent (There's a little humor built into the assessment).