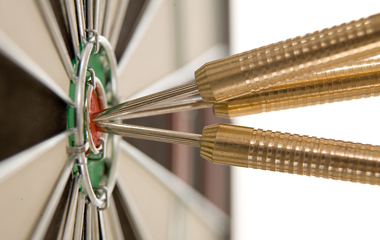 Employees with initiative hit the bulls eye all the time. Frequently, they exceed your targets and expectations. Is Initiative one of the major areas you focus on in an attempt to hire top talent – great employees – outstanding performers?
We've discovered that INITIATIVE is a primary element of success.
Top talent has extreme levels of initiative:
They anticipate what needs to be done
They go above and beyond the call the duty
They are proactive
They are step ahead of their peer group
They don't wait to be told what to do
Who do you have on your team that demonstrates initiative? What if you could get another one or two? Measuring initiative is actually quite easy.
Initiative is a life-long pattern of behavior. You don't wake up at 25, 32, or 47 and suddenly declare that you're going to be proactive for the rest of your life.
The candidates who have it will share example after example with you in the interview. The ones who don't – they'll struggle to come up with a few substantive examples.
As many of you know, I coach high school girls basketball. We can predict the future success when a freshman (freshgirl?) enters our program from middle school/junior high. What is this one trait that separates average and mediocre performance from exceptional? You guessed it – initiative.
Have you ever played a high school sport or had children that played a sport? How do most kids treat their high school sport? Like a part-time job. They clock in seconds before practice starts and clock out seconds after it's over. What do the very best do? They consistently show up early and stay late to work on their skills and competency.
I can observe a freshman for a few months and predict with a high degree of accuracy what she'll be like 4 years later on our varsity team if she sticks it out for 4 years. How can I do this? By observing initiative that is an obvious pattern of superior performance. She may lack the skills, strength, and knowledge when she enters our program, but by the team she's a senior – she'll be a rock-star – primarily by applying herself at a much higher level than her peer group.
You can easily see this among potential applicants – regardless of the level of the job. Initiative is that one trait that acts a multiplier. Individuals without the right experience, education, missing skills, and lacking knowledge – can frequently overcome those deficiencies through initiative.
Do  you have good examples of members of your team demonstrating initiative? Do you believe this initiative is a one-time anomaly OR a pattern of consistent behavior?
This is the one trait that stands "head-and-shoulders" above other success-based behavioral traits. We find it in all top performers and we find it missing in average and mediocre employees. This is why we consider the "INITIATIVE" question to be the first question in our 5-core question interview approach.
To learn more about our 5-core question interview approach, and specifically in measuring initiative, please feel free to download one of the audio programs from our extensive library of Internet Radio Programs. You can view the different free audio programs on hiring and retaining top talent by clicking here.
Barry Deutsch