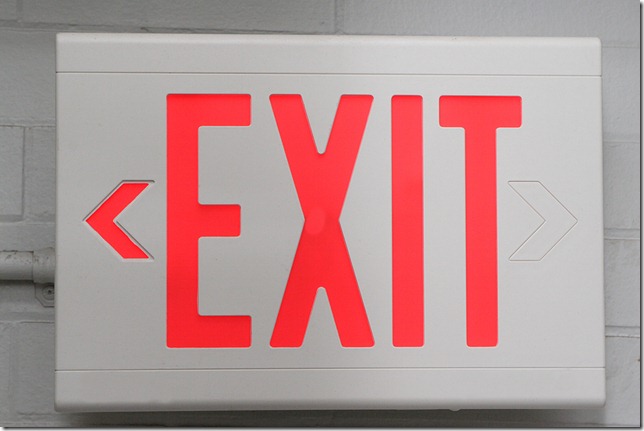 Are you at risk from your best people heading for the exit?
I was reading a blog from the Forbes website, and the article struck me that maybe it was time to raise this "elephant in the room" issue that no one wants to address.
I screamed "WOLF" about this issue a couple of times before – but let's have at it again. Here's what Edward Lawler said in his Forbes article (maybe you will not believe it when Barry Deutsch speaks – but perhaps an article on Forbes gives the concept some validity):
The economy is getting stronger, and as a result, more and more individuals are looking for better jobs. A recent survey by Lloyds found that executives believe a talent shortage is the number two risk facing business today, up from twenty-second place in 2009.
Put Retention PROGRAMS in place right now!
Are you putting specific retention programs in place right now. With the economy heating up, everyone acknowledging a talent shortage, and employee satisfaction hovering at depression-era levels, is anyone concerned that the lid may blow and lots of your best people starting leaving like dominos falling?
Once the brain drain begins, many of the folks who "aligned" themselves with your best talent, starting heading to the door with equal speed.
You can prevent your best people from leaving!
However, wishing and crossing your fingers doesn't work. Nor does leaving it up to each individual manager.
Here are some proactive steps you can start taking today:
Identify your high potential/high impact employees
Ensure they have stimulating work
Sit down with each one and map out a learning and development plan for the next year
Assign an executive to be their mentor
Come up with a list of projects that will intellectually challenge them
Find places in your organization to leverage their best talents and skills
Are there non-monetary rewards and recognition you can give this group of "A" performers when they exceed your expectations?
Take Care of Your Best Talent
Not taking care of your "A" talent will result in the "A" talent leaving. I know it's "unfair" to single out this group and give them specific notice, projects, and nurturing. Unfortunately, in most companies, the biggest successes, results, and outcomes follow the Pareto Principle. 20% of your workforce (typically your most talented) generate 80% of the significant change, improvement, and growth in your business. No surprises in that statement.
Are you ready to shift from a mental framework of abundance (typical in poor job market) of "these people should be lucky to have a job" to a framework of scarcity (typical in a good market). It's been so long since we've had a good job market – it's hard to remember what a struggle it can be to keep and recruit talent.
What's your plan to keep your very best people engaged and "recruiter-proof" your company?
Read more about the techniques of recruiting and retaining top talent, especially what motivates great performers, in our award-winning and best-selling book, You're NOT the Person I Hired. The book is available as a FREE digital download on our website.
To read the full article on Forbes, click the link below:
Preventing the Loss of Key Talent
Barry Deutsch