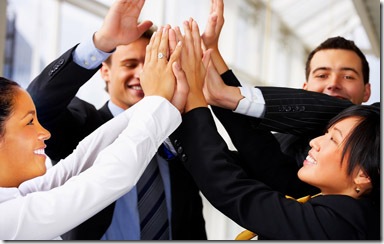 Lack of training, development, and growth is one of the primary reasons your best talent might walk out the door on you sooner than you think!
Last week I presented to a group of CEOs who were shocked that I was suggesting they spend any time with their direct reports talking about development, training, engagement, satisfaction, intellectual stimulation, desires, hopes, and dreams. They considered that "HR Talk" and felt it would be "below" them to have to engage in a "career aspiration-type" dialogue.
I can guarantee that these CEOs are in for a rude surprise in the near future when some of the talent they depend on most – start to leave. Once a few start to leave, the rest fall like dominos, and word gets out on the street that your company (YOU)  does not develop, groom, and prepare people for bigger challenges.
What Does Top Talent Expect?
Are you focused on developing your team – is this idea constantly bubbling up into your thoughts, OR are you praying that since everyone shows up for work everyday, they must enjoy their job? Don't be lulled to sleep by false impressions.
Contrary to popular opinion, just showing up does not mean contented cows, engaged employees, and satisfaction levels that are the envy of your competitors.
Top talent expects to be continuously trained. They expect to be given challenging assignments that stretch them to the next level. They want to come to work to be stimulated, intellectually turned on, pushed to excel, and forced to do their very best work to high standards.
When they are not being trained, developed, and given projects that add to their skill and knowledge level, they'll start taking calls about other job opportunities from their friends, former business associates, and recruiters. Worst case, they'll proactively go on-line to the major job boards and start seeking out opportunities.
The LIB Curve of Employee Motivation
My partner, Brad Remillard, wrote a job post, which you might title "Those Darn Recruiters". Many companies try to impose elaborate schemes and security measures to prevent recruiters from talking to their employees. Unfortunately, Brad and I have never been able to recruit a candidate who was happy and content in their current job.
You know that a large part of being happy and content is being trained, developed, and challenged with higher level work. This is really basic Abraham Maslow concepts from decades ago. What's surprising to me – is that most companies and executives VIOLATE on a daily basis the basic concepts of employee satisfaction, engagement, and happiness (Maslow termed a big part of that satisfaction: Self-Actualization).
If you've seen Brad or I present our workshop titled either "You're NOT the Person I Hired" or "You're the Person I want to KEEP", then you know we use a model of employee satisfaction called the LIB Curve – which is a variation of Maslow's Self-Actualization. Feel free to check out some of our previous articles on the LIB Curve of Employee Motivation.
Basic Common Sense in Generating Smiles
Do You Inspire Others to Self-Motivate?
Why You Should Measure Self-Motivation
Here's the key question: Do you know where every single one of your direct reports sits on the LIB curve? Are they at +8, –12, or flat-lined? If you don't know where each one sits and where they want to be, perhaps it's time to put your "career mentor" hat on and have a serious heart-to-heart with your direct report about their current and desired level of learning, impact, and becoming something better (LIB).
OR would it be better to wait until they come into your office and tell you they are planning on giving their 2 week notice?
When you walk in the office tomorrow, what's the first thing you'll start doing to develop your team?
Barry Deutsch
P.S. Download our Internet Radio Show Podcast on Non-Monetary Reward and Recognition where we discuss the internal processes required to inspire your staff to self-motivate, to engage and stimulate your top talent, and to retain your best performers.