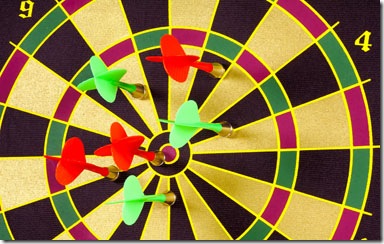 We frequently get this question from CEOs, Key Executives, and Hiring Managers. Many Hiring Executives and Managers, Human Resource Professionals, and Recruiters consider the ability to measure top talent as an art form elevated to almost spiritual levels.
The reality is that the ability to measure and assess whether a candidate is top talented individual is simple and straightforward.
Let's start with the very first step of determining whether you're sitting in front of a candidate who could be considered top talent. This step takes place before you've looked at their resume. This is the first step of our Success Factor Methodology.
The first step to measuring and predicting top talent is defining your expectations and the level of performance you desire. Do you have set of expectations for your new customer service rep, inventory manager, or Vice President of Sales that puts them in the top 25%, top 10%, or top 5%?
You cannot predict future success by interviewing a candidate until you first define what level of success do you desire.
The #1 Hiring Mistake that gets made by most companies (whether you have 6 employees or 60,000) is that future success is not defined. We documented this hiring mistake in a major study before we wrote our book "You're NOT the Person I Hired." You can download a copy of the study from the FREE Resources Section of our Website.
Instead of defining expectations that are quantifiable and time-based, most companies use a traditional job description to evaluate a candidate's ability to do the job. The traditional Job Description is worthless as a predictive tool for analyzing and projecting future performance and success.
Resources to Learn About Defining Success
Learn more about how to define success for top talent by visiting our website and taking advantage of the following Resources:
Barry