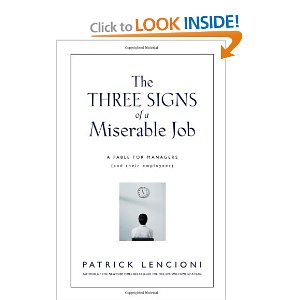 One of my favorite books, is Three Signs of a Miserable Job, by Patrick Lencioni.
Have you read this book yet? Every CEO should make it required reading for their management team.
Here's an excellent YouTube Video with Lencioni talking about the book:
Here's my homework assignment for you: Take an excel spreadsheet, list every employee in your company, and categorize them into one of the three main categories for a miserable job that Lencioni refers to in his book.
Anonymity: People need to be understood and appreciated by someone in a position of authority
Irrelevance: Everyone needs to know their job matters to someone
Immeasurement: Employees need to be able to gauge their progress and level of contribution for themselves
That's the easy part, the next part is then put action plans together to overcome these miserable elements of jobs in your company. Are you to this challenge?
You might say to me:
'I don't have a need to go through this with my employees. Our productivity, efficiency, and effectiveness is good enough. We don't have to go through this time-consuming, painful process, to figure out what's wrong with our jobs. If any of our employees don't like their jobs, their welcome not to let the door hit them on the way out.
Should Employees Be Engaged and Satisfied?
I'm curious how many CEOs really believe that statement. Oh, no one raised their hands. Here's the irony: The vast majority of CEOs don't perceive a problem. Then why are the vast majority of your employees turned off, dissatisfied, disengaged, and are ready to look for a new job? Almost every study over the last few years indicates employee satisfaction has dropped to historical lows compared to the Great Depression.
What's the risk of having employees feel like their job is miserable? What's the risk of having disengaged, unhappy, dissatisfied, unmotivated employees?
The risk is a tolerance for "it's not my job", errors, customer dissatisfaction, turnover, poor performance and execution, below industry average levels of productivity, and a dysfunctional culture that permeates every element of your business. Wow – I depressed myself just making that list.
Create An Engaged Workforce of Happy Employees
When should you start to care about how your employees feel about their jobs? Should it be when you want to grow your business by $250,000 next year, or $22 million over the next 3 years?
If your approach to business is "it's good enough", then take no action.
If your approach to business is along the thoughts of Jim Collins in Good to Great, I challenge you that this could be one of the greatest areas for operational performance in your business over the next few years.
What are your thoughts? What's your experience in implementing actions to overcome the 3 primary elements of a miserable job?
Barry Deutsch
PS – Take our FREE Culture Survey to get a quick grasp on how your employees might perceive your company and whether there is a risk of them being miserable. Click here to download the Culture Survey. This was one of the key chapters in our award-winning and best-selling book, titled "You're NOT the Person I Hired."
If you would like to discover how to hire and retain top talent, we've made You're NOT the Person I Hired, available for FREE in an electronic version. To download your free copy of the book You're NOT the Person I Hired, click this link, or click the button below: