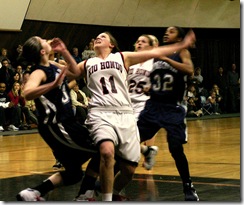 I coach High School Girls Basketball and I've noticed that the most successful girls love the physical contact of playing basketball – they attack defenders, they draw contact going to the basket, they get physical underneath the basket, and they don't escort dribble-drive penetrators to the basket.
Job Search is like basketball (my HS daughter who also plays basketball frowns ever time I tell her I'm making another basketball metaphor – I just can't help myself)
Candidates who are job hunting must seek out the face-to-face contact with others to conduct a successful job search. It's not enough to sit behind a computer screen all day reading emails, answering job postings, and participating in on-line discussion groups. Learn the fundamental elements of job search networking and personal face-to-face contact through our 5-Step Career Success Methodology.
The very best job search networkers reduce their job search time by half or more through turning the job hunt into a contact sport like basketball. Discover the best practices of master networkers who make job search networking a contact sport.
Here a 5 key thoughts to begin an introspective look at whether you're doing enough in the physical contact element of your job search:
1. Do you belong to a job search networking group that meets at least every other week in your local community with people at the same level as yourself?
2. Are you asking for and obtaining information interviews with hiring managers who currently do not have any openings?
3. How many meetings are you doing every week with the "A" list of your network – those who are strong connectors and influencers – those with extensive networks – the 20% of your network that will generate 80% of your job leads and referrals.
4. Are you active in at least one non-profit group in your local community by which you're making a valuable contribution and as a side benefit expanding your network?
5. Do you attend the meetings of the professional networking groups and local chapters of trade associations in your local community. For example, if you are a Controller or CFO, are you attending the FEI, FENG networking meetings. If your company is a manufacturer, do you also attend the local chapter meetings of APICS – the American Production and Inventory Control Society?
When you start getting out of the house and meeting people – one-on-one, in groups, at events – great results will start to happen. One of the basic elements of networking is that people are uncomfortable making referrals and giving you leads until they trust you. To gain trust, you've got meet and know people on a more personal level than email, twitter, Facebook wall postings, and lurking in discussion groups.
Barry
photo credit karenphotos