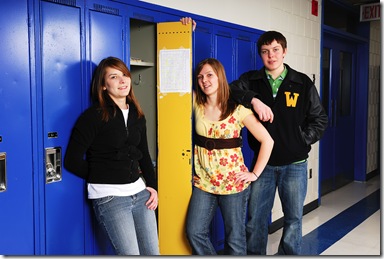 Is Your Job Search an Extension of High School?
One of my favorite bloggers, writers, speakers – Seth Godin, published a blog titled "On Self-determination". After reading the article, I realized, there was a frightening metaphor for most job seekers. I wrote a previous article about this syndrome on our blog titled "Hope and Luck are NOT Job Search Strategies"
I'll share the example Seth used in his blog article that literally rocked me back on my heels:
Anyway, they asked for my advice in finding marketing jobs. When I shared my views (go to a small company, work for the CEO, get a job where you actually get to make mistakes and do something) one woman professed to agree with me, but then explained, "But those companies don't interview on campus."

Those companies don't interview on campus. Hmmm. She has just spent $100,000 in cash and another $150,000 in opportunity cost to get an MBA, but…
A little later in his blog post, Seth made the comment:
Do you work with people who are still in high school? Job seekers only willing to interview with the folks who come on campus?
This approach of being a "victim" stems from high school where we let events and others dictate what we do, when we do it, how we do it.
I call it the "High School Time Warp Syndrome".
If we screw up, we could always blame it on others – my coach, my parents, the administration, my teachers, my classmates. As Seth indicates, for many individuals, this "victim" approach – or what he terms a lack of "self-determination" becomes a guiding principle throughout your life.
Brad and I did one of our Radio Programs on how this syndrome of "playing the victim" or "lacking self-determination" in your job search plays itself out every day. The Radio Show was titled "Job Search Mistakes – Part 2". You can download it from our FREE Job Search Audio Library.
YOU HAVE COMPLETE self-determination in your job search. STOP pretending your still in high school and others are dictating your actions. You have complete freedom to control, change, improve, evolve, learn, grow, and develop an effective job search.
Most candidates Brad and I meet conduct a job search at about the bottom 5% level. Why? Because they pretend they are back in high school where they never grew past a lack of self-determination or being the victim of circumstances. This is exhibited in the excuses, explanations, and rationalizations of why their job search is not working:
I don't do well meeting other people
I don't know what to do
That seems like too much work
I'm too busy answering job applications on job boards
I'm waiting for the phone to ring
I'm not really into networking
My resume speaks for itself
Why should I invest time to prepare for an interview, doesn't my background speak for itself?
The recruiter didn't call me back – all recruiters are idiots
The hiring manager didn't call me back – all hiring managers are idiots
I sent my resume in – but no one followed up with me
Stop complaining, kvetching, whining, crying, fussing, and acting like you're back in high school. Like Seth Godin suggests, become Self-Determinant!  Take your job search effectiveness from the bottom 5% into the top 5% and finish your job search. Apply yourself. Reach past your comfort zone in your job search and do something different tomorrow.
Have you even bothered yet to download our Job Search Effectiveness Self-Assessment to determine if you're in the top 5% or the bottom 5%? Brad and I have talked about this popular self-assessment over and over on our blog. Thousands of job seekers have taken it and dramatically improved their job hunting plans and success.
I spoke with a Senior Sales Executive yesterday in a phone interview and asked him why he had been out of work for a year. His story (and he stuck to it) was that the economy was tough (victim disorder – lack of self-determination – high school time warp dysfunction).
I can't present a candidate to my client that has been out of work for a year.  They would slap me so hard my head would spin around.
Don't let this happen to you. Start down the path of Self-Determination in your job search TODAY!
Learn everything you can about job search best practices. Follow the top bloggers on job search – get an new idea every day. (We're writing another blog featuring the very best bloggers from across the Internet sharing FREE Job Search Resources and Best Practices – subscribe to all their feeds).
Your effort, intensity, focus, learning, trying different tactics all help move beyond the "lack of self-determination" and victimization that categorizes most job searches. It's NOT one big thing that will make the difference in your job search – it's the hundreds of little things you do that are different from what you've done before.
STOP being caught up in the HIGH SCHOOL TIME WARP DYSFUNCTION!
Barry Deutsch
Join our rapidly growing LinkedIn Job Search Discussion Group to engage in great discussions around job search best practices and how to conduct a more effective job search.