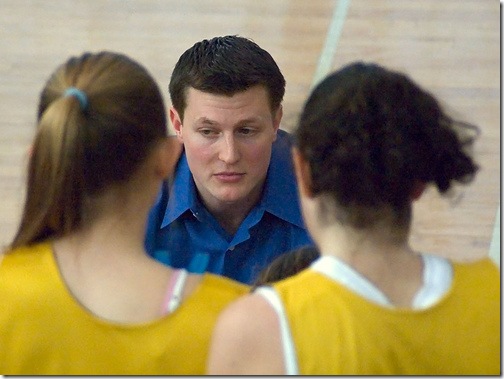 You're probably wondering what your job search effectiveness has to do with high school basketball. It's the start of the basketball season in California – be ready for lots of my corny basketball metaphors.
We have a saying on our Girls HS Basketball Team that goes like this "DON'T BE THE ONE!" This mantra we use in coaching basketball can be extended into an effective job search.
In our basketball program it means: don't be the one that makes everyone else run more lines, do more push-ups, stay for an hour longer, or any other consequence for not living up to the expectations of the coaches.
Each of our 30 girls hold each other accountable to a higher level of standards (they hate to run). No one slacks off, cheats on drills, or pretends they are working hard. The peer pressure is intense – no one wants to prolong practice or do unnecessary work.
Many readers of our blog have probably played a high school sport. You know how the peer pressure and accountability works. However, you're not in high school anymore. You can't rely on your teammates. Who is holding you accountable right now to a higher set of expectations in your job search and forcing you to accept some form of a consequence for not meeting them?
I've been at this game (job search) for a quarter of century – I know it's tough to conduct a job search. It's painful, humiliating, and it requires you to do things most people just plain don't enjoy – like networking, attending events, and asking for help.
If you are at a senior manager to executive level and not using a job search coach to hold you accountable, you could be taking 2X-3X longer to complete your job search. A good job search coaching program will keep you focused, hold you accountable, and open your eyes to job search opportunities that you may never have considered.
Are you the one who is procrastinating, not sending out regular emails/letters to your contacts, building your network with the right people, and preparing properly for interviews? You don't belong to a team – it's just you – so there is no peer pressure to hold you accountable. Should you be using a job search coach to help you reduce your job search by 20% – 30% – 50% compared to the length of time it's taking your peer group?
Who's coaching you and holding you accountable? One of the services we provide is a job search coaching program intended to leverage every available resource to help you reduce the time it takes to find a new job. Whether you use our service, or you pick another – the key is to improve the effectiveness of your job search through a job search expert.
Although I am a little biased toward our own job search coaching program, there are a number of outstanding coaches out there – many of whom I've referenced in our blog. Don't procrastinate another day – find a job search coach and start reducing the time it takes to find a great job.
I wouldn't begin to install new plumbing, code my own website, fix my own car – you get the idea.
Why would you consider "going it alone" in your job search?
This "I can do it myself approach" is what leads most candidates into a depressing cycle of not being able to conduct an effective quick job search that lands a great opportunity. Instead, for most their job search is a prolonged, cathartic, painful, protracted battle of walking a thin line between procrastination and seeing their savings rapidly evaporate.
Imagine for a moment if you could reduce the time it takes to find a new job by 1 month, 2 months, or 6 months. How much of your savings could you avoid spending if you could reduce the time it takes to complete a successful job search?
We have developed a structured process for conducting a job search. The process is called the Career Success Methodology. Thousands of candidates have applied this process to dramatically reduce the time it takes to find a new job. We have a wide range of products to reduce the time it takes to complete a job search, services to reduce your job search, and best of all – a wealth of free audio programs, templates, and other tools.
Start down the path of taking time out of your job search by downloading our FREE Job Search Plan Self-Assessment to determine if you are conducting an effective job search.
Barry
P.S.: Don't forget to join our LinkedIn Job Search Discussion Group