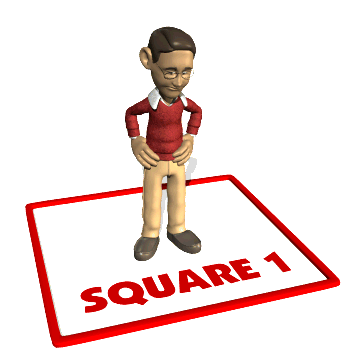 Does it feel like you keep falling back in your job search to square 1?
In a front page article in New York Times today, the point was made that the average timeframe for conducting a job search is now 6 months. Executive and Senior Management Job Search is typically 2X-3X the average professional job search time period.
Although this is NOT earth-shattering news, it does reflect a confirmation in a well-known publication of the obscene length of time it is taking most job seekers to find a new job.
Here's the bad news: not only is it taking longer to conduct a job search in one of the worst job markets in the last 25 years, but the worst job market is far from over. Given what we see going on in managerial and executive hiring, if the market returns to "normal levels" within the next 18-24 months, it will be a quick recovery.
The length of time it takes to complete a job search will only increase.
Can you imagine being out of work for a year – 2 years – longer?
Forget about the difficulty on finding a job, as the front page article declares – a larger problem is the long-term financial impact. Let's not dwell on that issue in this blog post. You can read the depressing article for more information.
I'd like to dwell on why it takes most managerial and executive job seekers 12-18 months to find a new job.
Our experience is that if you use the most common and simple best practices in job search, you should be able to cut the time it takes to find a job in half. Imagine that instead of taking 18 months, it only takes 9 months.
Simple Job Search Best Practices — we talked about this a few blog posts ago – you don't really have to master each one – you just have to do each one! Skipping one of these best practices is what causes your job search to be a never ending quest.
We call our framework of Job Search Best Practices the Career Success Methodology. This is an integrated and structured approach to executing flawlessly against the most common best practices in conducting an effective job search.
Are you using job search best practices to systematically reduce the time it takes to find a great opportunity?
Benchmark yourself by taking our Job Search Plan Self-Assessment Scorecard.
Rate yourself on 8 different dimensions to determine if your job search plan encompasses the necessary best practices required to conduct an effective job search.
Barry Deutsch
Join us in our LinkedIn Job Search Discussion Group to discover the most common job search best practices and benchmark the effectiveness of your job search.