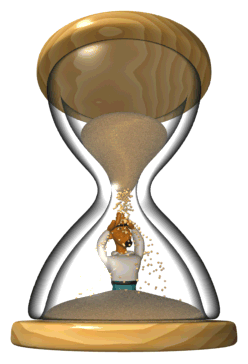 Amazing how time keeps marching forward in your job search like the sand through an hour glass. Every day, week, and month not spent conducting an effective job search drains your wallet and puts an unbearable level of pressure on your job hunting activities.
Miriam Salpeter, who writes a blog at Keppie Careers,  recently posted an article titled "What's the Cost of Being Unemployed?"  Great article.  Miriam gave a few good examples:
If you expect a $20,000 salary, your weekly salary is $384.61 and an 18 week job hunt will cost you $6,992.98.
If you are looking for a job with a $50,000 salary, your weekly salary is $961.54 and an 18 week job hunt costs you $17,307.69.
If you are hoping for a $100,000 salary, your weekly salary is $1,923.08 and an 18 week job hunt costs you $34,615.38.
Many readers of our blog are in the $150K-$200K plus range. What's the cost of your job search moving from a traditional 6 months out to 12-18 months?
Here's the comment I wrote to Miriam's Blog posting:
Excellent point about the cost of an extended job search. Most of the candidates I work with are significantly north of $150,000-$200,000 in annual income. Imagine the cost of a search that has gone from a traditional 6 months and is now approaching 12-18 months.
Here's the irony: We provide many good products and services, like you and other gurus/experts in this field. Yet, my experience is that the vast majority of managerial and executive candidates would rather flounder around for 12-18 months at the cost of $150K-$200K instead of investing $29, $59, $99 in a proven validated product/service that will take months off their job search.
I realize folks who are out of work don't want to spend money unnecessarily. However, like most things in life you've got to make a few key investments and spend a little money to make money. Most candidates we encounter have no clue what to do in an effective job search – and they're trying the same strategies which may have worked 8 – 10 -15 years ago. Whether it's our products/services, yours, another well-known expert – my recommendation would be for job seekers to become masters of the job search process. To do that requires purchasing audio, video, kits, courses, books, and workbooks. On top of all that great content is an extraordinary amount of FREE resources which few people take advantage of.
I just wrote a recent article on my blog about mastering the job search. My partner Brad and I will be discussing this idea in our weekly radio show on Monday.
Barry
P.S.: On Monday in our Radio Show we will release our long awaited Self-Assessment Scorecard to determine if your Job Search Plan is adequate to complete a quick and effective job search.