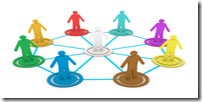 Dale Dauten had a post the other day on the Career Realism Blog that caught my eye. Dale is a well-known author and blogger on networking. In his blog post, he "turned" a couple of phrases that really caused me to start thinking about why networking fails for most people – particularly candidates in a job search.
He suggests to "Stop Being Beige". Dale offers metaphor of don't wear beige and lean up against a beige wall. STOP being invisible in your job search, in your career in the office, and taken to an extreme — in life.
This conjures up images of fading into the woodwork of your network, being invisible in groups as a lurker, and hiding behind your mother's skirt when you were 3. You don't have to be the life of the party or the center of attention – but you do have to engage with others. Great things come from engagement with other people. If you're uncomfortable in group gatherings (an important element of networking is getting out meeting others in groups), take some courses to overcome your fears and discomfort. Practice with your friends.
Risk a little – go a networking event (conquer your fears Geronimo – If you haven't read the children's book series on the mouse that conquers his fears I would encourage reading them – if the mouse can do it – so can you! Social Media Sites and On-line Social Networking is great – but no substitute for classic face-to-face "pressing the flesh" and physically meeting other people.
Dale Carnegie offers courses. There are hundreds of on-line resources about conquering your fear of engaging with others – blogs-webinars-articles-coaching. Toastmasters is one of the best places to build confidence speaking in front of groups – one of the best things I ever did in my 20's was to participate in a Toastmaster's Chapter for a couple of years.
My daughter plays on a high school varsity basketball team. Up until the last year she had pretty much mastered the art of being beige. Now she can't be beige. She craves the play time on the varsity team. She's learning at a very early stage in life that if there's something you really want – you can't afford to be beige – or you'll ride the bench and observe from the sidelines – that's no fun.
Read a new book once a week. Job Search, Networking, Personal Branding, Self-Help – the list is endless. Are you learning how to avoid being beige. What's the last great book on job search or networking or personal branding you've read?
Have you read our book, This is NOT the Position I Accepted, which  has an entire chapter devoted to job search networking.
We offer as a service a Strategic Networking Plan for Executive Level Candidates –  have you asked for an initial assessment to determine if you're a victim of being beige?
Brad and I moderate an Internet Talk Radio Show and cover a wide range of job search frustrations, mistakes, and best practices. Have you entered our virtual library of archived radio shows and listened to the programs on networking.
What are you doing right now to change and transform yourself from being beige?
Getting the 'Dirty Ear' When You Network? (You Better Hope Not!)
Barry