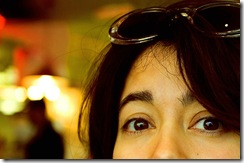 Many candidates join groups on LinkedIn, Facebook, Ning, Yahoo and on a variety of other platforms  to languish in "lurker" land. What's the use of joining a group unless you're willing to actively participate? Is not one of the major reasons for joining groups on-line or off-line  to network in your job search?
One of the most powerful methods of networking for job hunting is to become known to other group members through your posting of job search-related articles, sharing of informational links/sites (a major element of active Twitter networking), that might help other job seekers, and commenting on the posts by others. Learn about networking in our 5-Step Career Success Methodology.
Through your active "voice", others in the group get to know you, trust you, and start to go out of their way to help you when you become a valued member of their community.
Not becoming active in sharing your "voice" in these groups you join is the equivalent of "being beige" – fading into the woodwork. See the blog post I wrote titled "Networking Failure –  Stop Being Beige".
For those who are a little shy, reserved, and introverted, what better method exists to let your voice be heard?  You don't have to engage in physical groups, you don't have to formulate a response on the spot (you can think about it, analyze, and carefully craft your on-line message). and you don't have to portray yourself as an extrovert in a live setting.
Allow me to offer a starting point for beginning the journey of letting your voice be heard on-line to improve your job search networking:
Here are Seven Steps you Can Take to end job search voyeurism:
Step 1: Join our LinkedIn Group for Job Search
Step 2: "Lurk" or "kibbitz" and then get active
Step 3: Start to comment on job search articles
Step 4: Follow Brad and Barry on Twitter
Step 5: Subscribe to our Career and Job Search Blog
Step 6: Join other LinkedIn Groups and become active
Step 7: Subscribe to other blogs and comment frequently
In my next blog post, we'll explore each of these Seven Steps to ending Job Search Voyeurism.
Barry
photo credit by Stewart