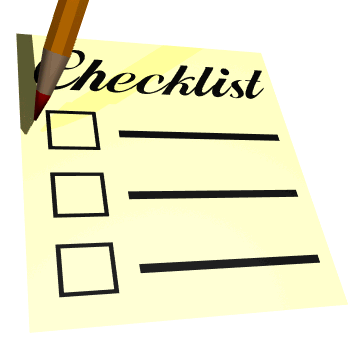 The traditional process of interviewing is typically an exercise in box-checking.
Hiring Managers and Executives use the traditional job description to check off whether you meet the criteria for the job. As we described in a previous blog posting, the traditional job description is a set of minimum and mediocre criteria. We've identified the use of inadequate criteria in a job description as the Number One Hiring Mistake made by CEOs and Senior Executives. You can download a copy of the study we conducted to identify the Top Ten Hiring Mistakes Made by CEOs and Senior Executives.
In the face of all rational thought and objectivity – why do most hiring executives and managers still cling to the outdated and ineffective job description? By all standards, it is a worthless document to measure and predict future success. Let's explore some of the reasons why the traditional job description is the primary tool you're evaluated against in a job interview:
1. Hiring Managers don't know any better. No one has ever taken the hiring manager by the hand and shown them a more effective method of defining success for a position. We cling to tribal hiring methods passed down through the generations without thought as to whether or not they are effective.
2. Hiring Managers refuse to accept accountability. Defining success and then publishing the definition of success (we call this a Success Factor Snapshot) is high accountability. As a Hiring Manager, if I define success and you as the candidate don't achieve the expectations, then I'll be forced to do something about it – as will my boss when the department/team misses their overall goals.
3. Hiring Managers give lip service to the hiring process. Saying that people are NOT your most important asset and consequently it's NOT worth spending much time on the process is akin to being against motherhood and other cherished traditions. Instead, many hiring managers and HR professionals talk about how important hiring is in their company, but their actions convey something else entirely – they are unwilling to invest the time it takes to define, measure, and predict success.
How can you overcome these 3 obstacles to winning the interview when you don't match up perfectly with the job description? Who could ever match up to a job description – one that has a list of random and arbitrary criteria which has nothing to do with the real job – it's not a job or role description – it's more of a people description.
Over 25 years in executive search, 1000 executive search assignments, interviews with over 100,000 candidates has shown me that top talent rarely meets the criteria described in the job description. In fact, if I had to make my living as an executive recruiter who depended on candidates meeting the box checking of the job description, i would have been bankrupt long ago.
Sorry – got sidetracked there for a moment. Back to the core question – how do you succeed in a box-checking interview when the criteria established is guaranteed to exclude you from consideration??
You do it through asking the most important interview question "How will you measure my success?" (or other variations of this question such as "What do I need to do in the job for you to consider me a success"?" What are the top 3 things I must achieve in this role to be successful?"). I discussed this idea in a previous blog posting regarding the syndrome of most candidates to interview blindly, flailing away with irrelevant information that the hiring manager most likely couldn't give a darn about.
It's like a magical question! Suddenly the interview transforms itself from an interrogation of bright lights and rubber hoses over box-checking your background to the job description to a discussion and consultative dialogue about the work that needs to be accomplished. Now you have an opportunity to demonstrate how your unique accomplishments and abilities will ensure the expectations of the hiring manager can be met.
Shame on all candidates who don't ask that magical question. You are doomed to a prolonged job search and constant rejection. STOP allowing the tribal hiring methods used by most companies to dictate your career and job search success.
Barry Deutsch