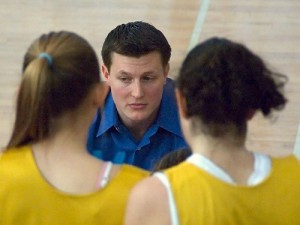 In basketball coaching, we have a phrase we call "hitting the wall".
My high school girls basketball team was crushing teams in a tournament last week and then they picked the championship round for 1st place to "hit the wall". We were the better team – we had beat our competitor multiple times last summer, we had worked harder, had better shooters, and tougher defenders. Why did we lose the game?
We lost because we hit the wall. The girls were burnt out from daily non-stop intense basketball during December. We tried everything – taking time-outs, substituting more often, running different plays, switching up our defense more frequently. Nothing worked and we had nothing left in our gym bag of tricks.
This is a common malady affecting teams, especially young teams that lack the maturity and experience of multiple years of basketball competition.
Have you "hit the wall" in your job search?
Unfortunately, if your team "hits the wall" during a game – you're stuck as a coach. You can sub fresh players, try to motivate them, run different plays, and try alternate defenses. However, as a coach you cannot play the game for them. At some point your team needs to perform. They need to stop the other team and put the little orange ball in the little orange hoop.
Fortunately, if your job search "hits the wall" there is plenty you can do. There is an almost unlimited number of tactics you can use in your job search to find open opportunities, increase the number of job leads and referrals, and expand your network.
What's the one thing you've done differently in your job search since it "hit the wall"? You've probably heard that quote from Benjamin Franklin that paraphrased goes something like "If you keep doing the same thing over and over, you'll keep getting the same results". Benjamin Franklin called this the "Definition of Insanity".
Brad and I would love to hear about the one new thing you've discovered or learned that has had a positive impact on your job search – something new that you decided to try since whatever you were doing was not working.
What's the best blog article you read in 2009 that made a difference in your job search? Is there an article Brad or I wrote in the last year that is memorable for you?
What one product did you buy – a book, an audio program, a video course – that turned the corner for you on your job search?
What unique FREE tool – a sample cover letter, a template, a checklist, a scorecard have you plucked off of someone's site (perhaps even from our FREE Resources Library?) that made a big difference or brought you an Aha moment?
There is a ton of FREE and inexpensive job search materials and content available. Sure – some of it's a scam and can actually hurt your job search. However, there are outstanding experts in the job search field that have put together an unbelievable range of materials, content, tools, and samples. Are you taking advantage of this avalanche of materials that keep coming every single day?
If you're not taking advantage of this FREE material and inexpensive products in your job search, then shame on you. Your job search will probably last as long as the average length of time (or longer) as other peers in your chosen field. If you want to reduce dramatically the time it takes to find a great job – then you've got to embrace the best practice information available at your finger tips.
Barry Deutsch
Don't forget to join us in our LinkedIn Job Search Discussion Group for best practices, great ideas, and tips to improve the effectiveness of your job search.