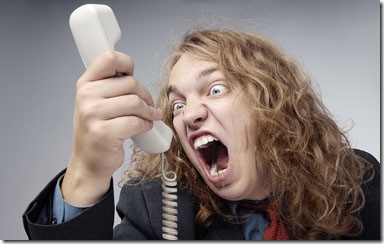 I'm very frustrated today. I'm ready to explode at the candidates responding to my job postings.
On the outside I'd like to call candidates on the phone and invite them in for an interview – one the inside I'd like to call candidates and scream at them for their stupidity in the way they responded to my job postings.
Here's a real-life current case study in how NOT to apply for a job. It's one of my greatest pet peeves as a Retained Executive Recruiter:
Throwing out a resume without a custom cover letter and customizing the resume to fit the job spec described in the job posting.
There – that's simply it – Finally, I got it off my chest!
I just put 3 new job postings up on LinkedIn. I posted the job on LinkedIn's Paid Job Board Service and in the FREE Job Boards within various discussion groups (the results were no different for either approach). The jobs I posted were HR Manager, Construction Project Executive, and Senior Sales Executive.
I have received just through LinkedIn (referrals, recommendations, ad responses) over 1000 resumes so far. Approximately 90% did not have a cover letter. Less than 10 customized their resume for the specific job posting. Every one of these jobs is $100K and above. You'd think folks with that expensive parchment called a college diploma would know better.
Some of you may be familiar with a few of my earlier blog postings on this syndrome which I titled "The Hot Potato Method of Responding to a Job Posting".
I don't get it.
I'm confused.
I'm almost stunned past the point of words.
More than 75% of the candidates who replied to these jobs have been out of work for over 6 months. Over 50% have been out of work for over 9 months. Why would you RUIN your chances of being interviewed by tossing out your resume as if you don't give a darn what I do with it?
The responses went something like:
"Here's my resume"
"Please review my resume"
Some just emailed the resume as an attachment WITHOUT a single comment – as if the resume "spoke for itself". It's sad to the point of making me want to cry – or laugh hysterically.
I'd be very interested to hear from your perspective as a candidate why you don't care enough to write a cover letter describing how your background and accomplishments fit the job spec posted? I'd be interested to hear why you would submit a resume that doesn't specifically and precisely address the expectations listed in the job posting?
As a recruiter (and I'm sure I'm speaking on behalf of the vast majority of recruiters, HR professionals, and hiring managers), why should I bother to open your resume or consider you as a viable candidate, when it's obvious you could care less whether you are granted an interview.
SHOW A LITTLE EFFORT IN YOUR JOB SEARCH.
MAKE ME THINK YOU ARE INTERESTED IN THIS SPECIFIC JOB.
LET ME KNOW YOU'RE NOT BROADCASTING COOKIE CUTTER RESUMES AND RESPONSES OUT TO EVERY JOB POSTING YOU SEE.
What motivates candidates to respond to job postings with the "Hot Potato Method"? Are they burnt out on their job search? Have they reached a point of apathy and indifference in their job search?
Do they (YOU) care if you get a job next month or in 18 months?
If you would like to STOP THIS JOB RESPONSE Posting NONSENSE right now, I'd like to recommend you join me for our upcoming webinar on
We've DEEPLY DISCOUNTED THE WEBINAR FOR THOSE JOB SEEKERS WITHIN OUR JOB SEARCH COMMUNITY – loyal followers on Twitter, readers of our blog, members of our LinkedIn Job Search Discussion Group.
In a lively one-hour presentation, I'll show you the inside secrets (from a Retained Executive Recruiter perspective) of how to get your resume reviewed every single time and boost your resume acceptance rate (number of times you get called for an interview from submitting your resume) from a dismal level of less than 10% well into the 50% PLUS RANGE.80-90%. If you're reading this blog, when you sign up for the Webinar use the coupon code of IMPROVEMYRESUME.
If the small, inconsequential, almost non-existent fee for the webinar is too much to bear to boost your resume acceptance rate and cut your job search time dramatically, please feel free to download our many FREE resources for job seekers, including our radio show broadcasts, cover letter sample, and other tools.
Don't forget about our LinkedIn Job Search Discussion Group, one of the most vibrant and rapidly growing groups on LinkedIn. You can learn about best practices in writing resumes and cover letters.
I'm stunned that most candidates will not take advantage of great content, webinars, workshops, tools, audio programs, Youtube videos, blog posting advice, and other tools that range in price from small investments to FREE.
Don't be the one to conduct a job search that takes 6-9-18 months when you could have done it in half the time by improving your resume and cover letter to raise your resume acceptance rate.
Thanks for letting my rank about one of my greatest pet peeves in job search.
I look forward to seeing you at the webinar on January 29th and transforming your ability to write effective resumes and cover letters to immediately boost your resume acceptance rate.
Barry Deutsch