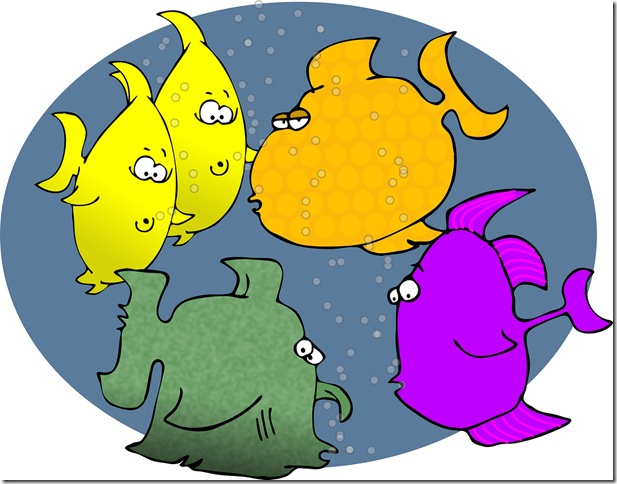 Let's continue along my last post about fishing and networking. As you'll recall, we were extending the wonderful post about fishing as a metaphor for job search networking that Anna Farmery from Buzz Networker had brought to our attention a few days ago.
One of the points that Anna raised was what kind of network are you looking for – or to continue our fishing metaphor – what type of fish should be in your network?
I'll be so bold as to suggest that most of the fish in a job seeker's network STINK!
It's not that most networking contacts are bad people – but rather the network that a typical job seeker has assembled to help generate job leads and referrals is nothing short of useless in most cases. Brad and I take you through this introspective look at your network in our networking chapter in our book "This is NOT the Position I Accepted."
One of the services that IMPACT Hiring Solutions provides is Job Search Networking Strategy and Coaching. Every day, Brad and I are immersed in reviewing the networks and networking activities of job seekers within our job search network (those that have participated in our tele-seminars and webinars, those who have downloaded our FREE Internet Radio Shows on conducting a Job Hunt, and those who participate in our LinkedIn Discussion Group for conducting an effective Job Search.
Although I have not yet quantified the data (do you sense another survey/research project coming on?), I'd surmise that less than 5% of the networks most candidates are using – are useless and yield very little in terms of job leads and referrals.
Why?
It's because you have the wrong fish in your network. As a candidate involved in a job hunt, you need four classes of fish to have an effective network that can generate an abundance of job leads and referrals.
The four classes of fish (network contacts) are:
Hiring Managers who might potentially hire you for a position
Contacts who would know the hiring manager (peers competing for a similar position and peers of the hiring manager)
Recruiters who fill the positions you want
Personal Service Providers (lawyers, benefit consultants, CPAs, construction company project managers, landscape service businesses, leasing agents, etc.) The key to having these folks in your network is the ones who are "trusted advisors to their clients" (more about becoming a trusted advisor in a future post).
If you can assemble a network of individuals balanced among the 4 classes of fish we've defined, you'll begin within 3-6 months to generate more job leads and referrals than you can handle. It goes without saying that once you've pulled all your fish together, you've still got to do all the little things that comprise best practices in networking activities.
Pulling together the "right" job search network is only the first step in reducing the time it takes to conduct a job hunt in half. This is the core theme of our entire Job Search approach: The Career Success Methodology – Cutting your job hunting transition time in half!
Thousands of job seekers have shared their success stories with us that by following the Career Success Methodology they've reduced the time it takes to find a job by 50% or more compared to their peers conducting a similar job search.
Having the right contacts in your network who can deliver an abundance of job leads and referrals is only one important element of the disciplined job search approach found in the Career Success Methodology.
Barry