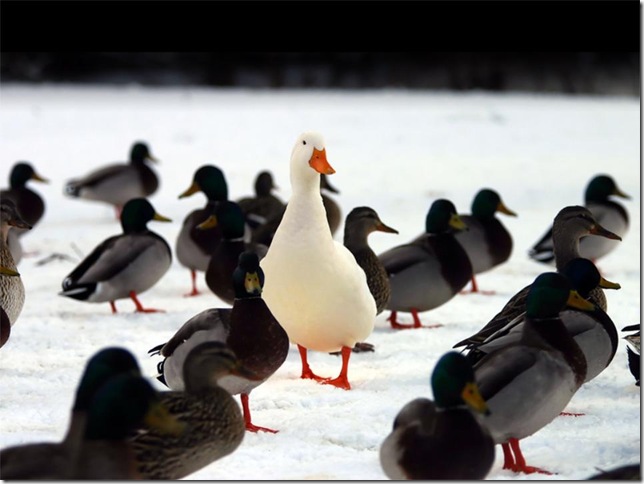 I've posted a Slideshare Powerpoint file through LinkedIn as a demonstration of one small aspect of how you can improve your personal brand and visibility on LinkedIn. Do you STAND OUT among a crowd of "me-too" profiles?
Here's the actual Slideshare link to view or download the presentation. Over the next few weeks, I'm going to do a voice-over narration of this Powerpoint as an additional test. You can do this too.
I'll be adding audio and video files to my LinkedIn Profile to demonstrate how you can leverage simple tools on this wonderful service to dramatically improve your job search. Take a look on slideshare at some of the other Powerpoint and Video files other job seekers have posted.
Employers and recruiters (including Brad and I) would love to hear you talking about your expertise and accomplishments, view a video of you answering interview questions, and be able to download a powerpoint presentation about your job achievements. Imagine LinkedIn as an expanded multi-media platform to enhance your traditional resume.
The funny thing is that less than a tenth of one percent of all job seekers are using all the available tools on Linked for their job search – and the tools are available for FREE – go figure!
What a shame!
Try it – look at my profile or Brad's profile on LinkedIn. Look at some of the profiles of the masters of job search personal branding and job search networking. I'll feature once a week a candidate who is truly leveraging LinkedIn for their job search – for each person selected every week, they'll get a FREE copy of our book. Would you like to throw your profile in the ring to try and win a FREE copy of our book, This is NOT the Position I Accepted. Be the first to volunteer!
In the meantime, if you would like to start taking months off your job search, start taking the initiative to improve your LinkedIn Profile as a small step forward.
Barry
P.S. Don't forget to take the Self-Assessment of your LinkedIn Profile by using our FREE scorecard for assessing your LinkedIn Job Search Profile to determine your effectiveness of being found by recruiters, human resources, and hiring managers.
P.P.S. Brad and I also did a broadcast on our radio show about this LinkedIn Profile Self-Assessment Tool and how to most effectively improve your visibility.