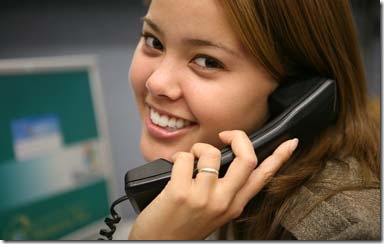 You might ask "How can you fail at interviewing before you start?"
The vast majority of candidates never get an opportunity to interview in a face-to-face meeting with the hiring manager or executive because they BLOW the phone interview.
These candidates failed at interviewing before they even got started. They're like a runner who never leaves the starting block on the track.
I'll use a basketball metaphor to describe this scenario. Many basketball games come down to the last few seconds with close scores. The game outcome is decided by who does a better job making free throws. But what if you never got the chance to get to the line and make your game winning free throws. What if during the game you missed lay-ups, your defense was mediocre, and you couldn't rebound effectively? You'll never have a chance to make a game winning shot since you didn't set yourself up from the start to be in the right position.
Phone interviewing is the vehicle by which candidates set themselves up for success. You'll never be invited to meet hiring managers if you don't first ACE the phone interview.
What's your "accuracy" in phone interviewing? After a phone interview, do you get asked in for a personal meeting with the hiring manager 80% of the time – 50% – 20%. If you look back on all your phone interviews in your current job search, I would bet you'd be stunned at the horrifically low percentage of time you actually get invited to personally meet the hiring manager.
Your minimum goal of interview invitations after phone interviews should be 50% – that's the minimal acceptable standard. However, if you're not hitting 80%, batten down the hatches, conserve every dime you have – because you're headed for a job search that is going to drag on forever.
The big question is: How do you consistently get to 80%?
As many readers of our blog know, Brad and I have written the definitive guide to job search in our workbook titled "This is NOT the Position I Accepted". The most popular download on our website over the last year has been the FREE Chapter on Phone Interviewing.
We've taken this Chapter stuffed full phone interviewing best practices, matched it up with recent real-life examples and stories from members of our LinkedIn Job Search Discussion Group, and put together a one-hour powerful webinar on phone interviewing that will transform your job search and dramatically reduce the time it takes for you to find a new job.
Would you invest an a minimal amount of time and expense to improve your phone interviewing capability to get to 80%. What's 80% worth to you? What would you do to get 5 more interviews, 10 more interviews, reduce your job search by 50%, or avoid draining your savings account on a prolonged job search.
Join Brad and I for a powerful one-hour webinar on October 31st. If you implement just 5 or 6 of the ideas we'll be discussing, you're job search will immediately begin to kick into overdrive. SIGN UP NOW!
Barry