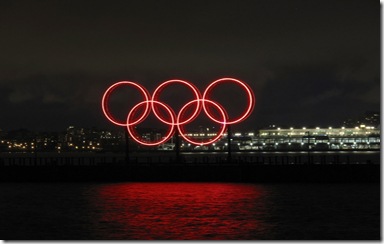 Many job search bloggers (and almost everyone else in the blogosphere) have been  making Olympic metaphors for the past two weeks.
So why can't I try my metaphor? Here goes:
Is your job search like Olympic Competition?
I touched on this subject on our FREE Job Search Resources Blog, where today we named Miriam Salpeter of Keppie Careers as a Job Search Best Practice Blogger. We're on a search to profile the the very best job search best practice bloggers from across the Internet in our FREE Job Search Resources Blog. Miriam is our first recommendation.
Here in this blog – our Career and Job Search Blog – we focus on sharing the wealth of knowledge Brad and I have accumulated on the frontlines of recruiting top talent over the last 25 years together.
Imagine over 1000 searches, 200,000 interviews, millions of resumes reviewed. Looking back over the past quarter of a century is almost mind-boggling when you consider the vast amount of job search data we've collected – mistakes made by candidates, mistakes made by hiring managers, best practices, new technologies, and changing the tribal method of job search one candidate at a time.
Miriam just published a Job Search/Olympics comparison on her blog (which we've been impressed by for a long time and have now put up on a pedestal) and it triggered some additional thoughts.
So, back to our original subject – How is your job search like being a top tier athlete at the Olympics?
Top tier athletes prepare long in advance for the actual competition (interview). Your job search is similar – most candidates DO NOT prepare adequately!
Top tier athletes research and study every element of their sport down to the finest detail. Your job search is similar – most candidates DO NOT conduct effective research prior to an interview! Most candidates don't spend the time on their job to become the best at what they did. Most candidates DO NOT even attempt to master conducting an effective job search – they're doing it the same way the masses have done it for the last decade and they wonder why mediocre results occur.
Top tier candidates train, learn, have coaches to push them, set high goals, and keep moving to a higher and higher performance level prior to the main event (Olympics – Job Interview). Your job search is similar – Most candidates did not do this prior to needing to look for a job and find themselves unable to compete with candidates who've done this for the past 4 years. In addition, most job search candidates don't take the time to learn about conducting a job search, don't hire a professional job search coach, and don't set adequate goals to achieve their desired outcomes.
The actual competition at an Olympic event is anti-climatic. It's not the ability to perform in that situation. It's the execution of years or a lifetime of practicing, learning, preparing. Job search is a lot like high level athletic competition. It's not what you do in that final interview, it's all the hard work that preceded that final step.
What's your plan – either in your job right now – or in your job search right now – to become the very best at what you do? What's your learning, development, reading, training, preparation plan that will enable you to "win" that next great opportunity?
Here's a start: Have you downloaded our FREE Job Search Preparation Self-Assessment to determine where the gap is in your job search and how you can quickly turn it around to begin conducting an effective job search?
We talked about some of the reasons why most job searches are taking longer – and the key issue was NOT the economy – it was the fact that most job seekers don't invest the time in job search planning and preparation. Take a look at this previous article we wrote about how you keep landing back at Square One in your job search.
Barry Deutsch
Join our rapidly growing LinkedIn Job Search Discussion Group to engage in great discussions around job search best practices and how to conduct a more effective job search.