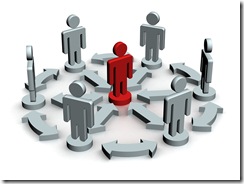 I just published a blog on our HIRE and RETAIN Top Talent Blog aimed at hiring executives and managers on the subject of networking.
You can read this blog posting on networking for Executives and Managers by CLICKING HERE.
Outrageous Claim ? Networking is Critical to a Career
In this blog posting, I made the outrageous claim that Networking can make or break a career. As I was writing the post which was focused on employed executives and managers, the issue struck me that most candidates take too long to conduct a job search because:
Networking Efforts are INADEQUATE OR INEFFECTIVE
The Fundamental Problem of Job Search
One of the services we provide for executive and managerial job search candidates is job search coaching. We also have a specific project for developingNetworking Strategic Plan.
The first thing we notice is a woefully inadequate network and ineffective methods to build, grow, sustain, nurture, develop, enhance the network. Its no wonder the most common complaints about networking is that for the time investment it doesnt yield enough job leads and referrals.
If I approached networking the way most candidates approach it in their job search, I would consider it random luck if I got a job lead or referral.
Weve touched on Networking in the past and the importance of it for your job search. In my article addressed to employed hiring executives and managers, I claim its one of the most important skills they can possess and one of the most important activities they must do on a daily basis.
In a job search ? it is not just one of the important things you should be doing ? JOB SEARCH NETWORKING is the most important thing you should be doing ? without exception.
Here are few articles where weve touched upon the importance of networking:
CLICK HERE to Read How Recruiters Search on LinkedIn and What We Look For
CLICK HERE to Learn How to Stand Out at a Networking Event
Im writing an article series on 101 Job Search Tactics. A large percentage of those tactics are going to be centered around effective networking. Ive already described some of the networking tactics job search candidates should be trying on LinkedIn. Here are links to a few of those blog postings:
CLICK HERE to Read – Cares What Your Status is On LinkedIn?
CLICK HERE to Read ? 101 Job Search Tactics to Find a Job Now
Questions for Candidates Who Dont Network?
Why are you not networking?
What dont you know about networking that you must learn?
What are top 10 books youve recently read on networking?
What workshops/seminars/webinars have you recently attended to improve your skills at networking?
What blogs are you reading that offer great tips on how to network in your job search?
Whats holding you back?
Shouldnt you be investing heavily in time (and funds) everything you can to learn how to become a master networker in your job search?
If 80% or more of all jobs are not posted, in the hidden job market, and can only be found through networking ? why are you only focusing on the 20% that are advertised on job boards?
Resources for Job Search Networking
Basing your job search on answering job board advertisements instead of concentrating on effective job search networking is like betting your savings on the crap tables. Only if random luck intervenes do you stand a chance of succeeding.
Here is a list of a few resources that might help you in networking:
CLICK HERE to join our LinkedIn Job Search Discussion Group ? many good conversations on how to network effectively
CLICK HERE to see our Job Search Workbook that contains our focused chapter on how to network
CLICK HERE to Learn about our services for Executive and Managerial Job Seekers including Job Coaching and Networking Strategic Planning.
CLICK HERE to download some of our archived FREE radio show broadcasts on the subject of Job Search Networking
CLICK HERE to download the FREE Job Search Plan Self-Assessment Scorecard to determine if your networking approach is effective
CLICK HERE to visit our Job Search FREE Resources Portal where we bring together the blog feeds from some of the very best bloggers on the Internet focused on Networking techniques.
Barry Deutsch