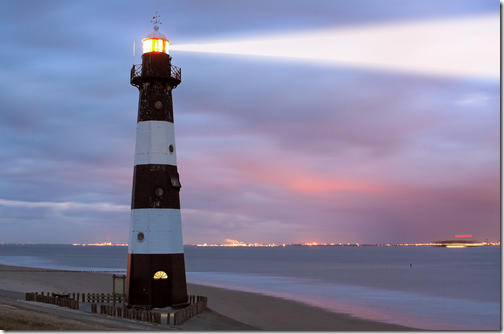 Adam Singer, writing today in his blog, The Future Buzz, used a lighthouse with it's powerful lens as an excellent metaphor for networking on-line, particularly in using on social media, groups, discussion boards, and other communities to draw attention to yourself in your job search.
Adam uses this powerful metaphor and visualization to call attention to the importance of establishing your own personal brand in social networking, for both your success, career, and job search. He states:
A beacon is an intentionally conspicuous device designed to focus attention on a specific location.

Visualize what image the word beacon conjures in your mind:  perhaps a lighthouse casting light onto an otherwise dark horizon, or a signal fire atop a hill illuminating the night sky.  In the physical world, a beacon is used to draw attention, act as a guide, or call to action.  Civilizations have long used them to rally citizens together, protect ships from coastlines, and act as signal points.

But the concept of a beacon is not limited to purely physical signaling points.  There are beacons on the web – they are people, companies, networks, blogs, anything that can direct attention.

You must become a beacon or you are essentially at the whim of others who point attention at their own discretion, perhaps shining the light on you for fleeting moments…if you're lucky.
You can read Adam's full blog post at The Future Buzz.
Are you a beacon to others in your job search. Is the attention of hiring managers drawn to the light you cast?
If you missed our last post about using your LinkedIn Profile to become visible in your job search, you can still download the 8-Point Success Matrix for Your Job Search LinkedIn Profile. Within minutes, this matrix will help you to improve your existing LinkedIn Profile to become a bright beacon and attract the attention of recruiters, HR managers, and Hiring Managers in your job search.
Barry
Photo courtesy of Adam Singer at the Future Buzz