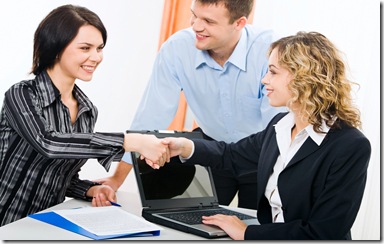 Chad Levitt, a guest blogger at Dan Schwabel's Personal Branding Blog posted a blog a few days ago titled "What is Your Digital First Impression?" Chad claimed that making a digital first impression was very similar to making a personal first impression. He inferred in the blog posting that when people are searching for you on google, those first few links that come back are your first impression.
By the way, Chad is an extraordinary authority figure on personal branding, particularly in networking and sales. His own blog at The New Sales Economy Blog is one of my favorite.
No disrespect intended, but I think Chad may have defined digital first impressions a little too narrow.
In a personal meeting, you typically have one chance to make a good first impression. Blow it – and it's over. Rarely will you have another opportunity.
On-line, first impressions are radically different. Not only are your first impressions scattered across a wide array of sites, such as LinkedIn, Google, Facebook, forums, discussion groups, Twitter, and many other indexed sites/comments.
Not only is your first impression scattered across a wide variety of sites as compared to a one-time event in person, you also have the ability to constantly improve, manage, build, develop, and evolve your first impression on-line. What appears today in a Google Search is NOT what has to appear next week.
The major question is: are you continuously working on your digital first impression so that you can be "found" by buyers, hiring managers, senior executives, recruiters, and human resources?
Let's tackle one small area of starting to more effectively manage your digital first impressions: A few months ago, we posted on our website an 8-point Success Matrix to evaluate the effectiveness of your LinkedIn Profile. The scorecard was intended to determine if your LinkedIn profile was strong enough to let you be found by hiring managers, recruiters, and human resources.
Our research around the use of LinkedIn as a Personal Branding Tool and for Job Search 1st Impressions was depressing. Less than 10% of those who took the challenge to assess their LinkedIn Profile using our Scorecard met the minimum standard for effectiveness.
If you would like to gain a deeper understanding if your LinkedIn Profile can be more effective in helping you to be "found", download the LinkedIn Profile Self-Assessment.
Barry
Join our LinkedIn Discussion Group where we release first all our new tools, templates, and advanced self-assessments.