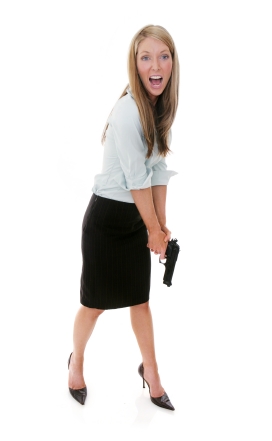 I think the best way to shoot yourself in the foot while in a job search is not having a structured, formal, repeatable job search methodology or process. In the case of a job search HOPE and LUCK are not a process.
A methodology has a series of steps, that when followed, increase the probability of a desired outcome. This also implies that when a step is skipped the probability of the desired outcome is less. There is only one thing worse than skipping a step in a methodology, and that is not having one at all. Unfortunately, we find that most candidates don't have a real methodology. Most tend to have a little of this and a little of that and candidates are easily distracted. The results tend to be no methodology.
Our job search workbook, "This Is NOT The Position I Accepted" is a 5 step process for making you a sales person during your job search. After all, when you are in a job search you are in sales. There are 5 basic steps in the sales process that are a good outline for a job search.
What is the product or service? Before a sales person can sell a product they must know all about the product. This not only includes the facts about the product, but what makes this product better than the competition, what makes this product unique, how the buyer will benefit from the product, and often a SWOT analysis is performed. Since you are the product in a job search have you addressed all of these issues?
Once step one is completed it is time to identify the customers and put together a marketing plan. Not everyone may need or want your product. In fact, your product probably is not right for everyone. So you must identify the high potential customers. Those that have a high probability of not only buying your product, but also can afford your product. Why waste time meeting customers if they don't fall into one of these categories? In a job search we call this, "networking with a purpose."
Now that high potential customers have been defined and identified, every sales person needs marketing materials. Marketing documents, regardless of the form, strive to get to the customer's underlying motivation. Often this requires multiple marketing materials and multiple formats. Regardless of formats, most marketing documents are about the customer, not the seller. Is your resume a marketing document? Is it about the buyer or all about you?
Sooner or later every sales person has to make a sales presentation to get the sale. Top salespeople have this down pat. They rehearse, they anticipate questions and practice the answers, they know what the buyer's objections to the product are, and have thought through how to overcome them. Finally they have studied the competition and know exactly why their product will better meet the customer's needs. Obviously, this is the interview for those in a job search. Would you be considered a top sales person?
Finally top salespeople know how to follow-up and close the sale. This is the most difficult part of any sale. It must be done tactfully, in a manner that engages the customer without bugging them and continues to overcome issues as the process continues. For candidates, this is all of the additional interviews that take place as you move through the hiring process.
These five steps are the basic steps in an search process. Just like the sales process, there is a lot more that goes into each step. Top salespeople spend an enormous time training, preparing and practicing each step. Top candidates do the same.
Join our Linkedin Job Search Networking Group for a lot more help with developing and enhancing your job search methodology. CLICK HERE to join the group.
Our job search workbook, "This Is NOT The Position I Accepted" is based on the five steps outlined above and goes into great detail on each step. We will send you the book to review for just the cost of shipping $5. CLICK HERE to read more. Readers have rated this workbook 4.5 stars out of 5.
I encourage your comments and feedback.
Brad Remillard