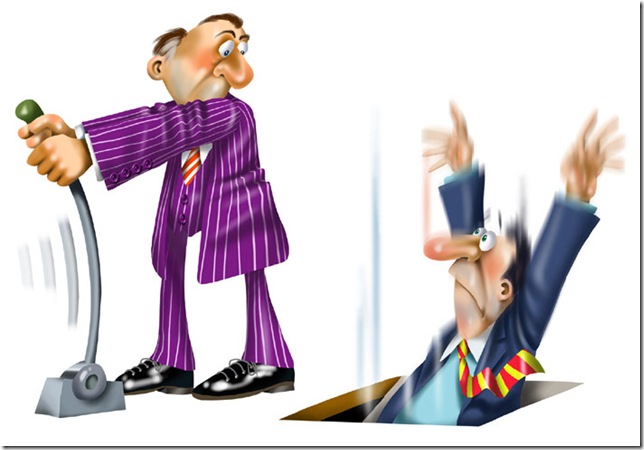 How is this possible you might ask?
How could anyone determine whether I am a fit for a job with only one interview question?
Even more shocking is the idea you could be eliminated through the very first interview question?
Shouldn't there be many factors which determine whether you will give me a change to prove myself in a phone or physical interview?
NO and NO again.
The BEST recruiters approve or eliminate YOU in the first interview question. Your response to my first interview question determines whether I'll invest more time probing, digging, and validating your claims – OR we're DONE. The BEST recruiters live and die by this methodology.
Our clients are expecting us to validate, verify, and vet YOU as a candidate who is capable of achieving their expectations of results. We're not resume factories and we don't throw paper in the door wishing it sticks. We don't cross our fingers and hope you'll be successful. We take a very structured, careful, disciplined approach to interview YOU.
We don't measure ourselves by the brokerage model the recruiting industry is so well known for – I toss in a resume and if the Hiring Manager falls in love with the candidate – I get a brokerage fee.
The best recruiters do the hard disciplined work for their clients by validating, verifying, and vetting YOU before they'll considering presenting YOU to their client.
Now that we've drawn the distinction between what most recruiters do vs. the BEST recruiters, let's refocus on how the BEST recruiters eliminate you in their first interview question.
There are a number of factors in measuring a candidate's ability to succeed in a job. There are also a wide variety of interview techniques to collect this information.
However, one factor stands "head-and-shoulders" above all others – particularly for high level professional positions, management roles, and senior executives. At lower levels in an organization, the primary focus is on executing tasks and activities that can be taught or learned. With a little bit of skill, knowledge, and training, many employees can master the requirements of entry level to lower level roles in an organization.
A common misperception is that high level professional, managerial roles, and executive positions can be defined through the same techniques of entry level/lower level jobs –  writing traditional job descriptions listing minimums of education, skills, knowledge, attributes, tasks and activities.
At higher levels, employees are not measured for doing tasks and activities and applying their skills. They are measured on their accomplishments, achievements, outcomes, deliverables, and results.
Okay – so now we've defined the major difference between entry/lower level positions and management/executive positions. At a lower level, you're measured for your ability to apply your skills and knowledge in performing tasks and activities. At a high level, you're measured for delivering results and outcomes.
Now that we've got that long-winded explanation of what differentiates lower level roles from higher level roles, we can move onto the core point of this blog post:
How The Best Recruiters Can Eliminate You with the First Interview Question
Once I know the most important outcome for the position (this is an entirely different issue for which many employers fail miserably – read more about the first step of our Success Factor Methodology), all I have to do is ask you if you have a comparable – similar – like – accomplishment to this most important – critical – game-breaker outcome that is the NUMBER ONE determining factor of whether you can be a successful hire.
Every high level professional, managerial, and executive role has one or two critical game-breaker outcomes that are required for success.
If your accomplishment IS NOT COMPARABLE – SIMILAR – or LIKE what needs to be done in the job – defined as similar in scope, size, project duration, budget, number of people, outcomes, resources, timeframe, metrics, deliverables – then it's unfortunate, but
YOU ARE NOT SOMEONE THAT WILL BE CONSIDERED FOR THIS SPECIFIC POSITION.
Our interview is over.
Time for me to move on and pose this question to another candidate.
The process repeats itself hundreds of times on a typical retained executive search.
Does this sound cold and impersonal?
You might be a wonderful human being with tremendous potential to do lots of different things for a company
However, my client has paid an enormous sum of money for me to efficiently and effectively find them the best candidate. There is no better interviewing method than using behavioral interviewing techniques layered against future results needed.
NONE!
In 25 years of executive search, Brad and I have conducted 1000s of searches, interviewed hundreds of thousands of candidates, and implemented more effective hiring best practices in thousands of companies – NO interview question or technique comes remotely close to the methodology of:
What is the number one game-breaker result needed in the job – and then asking the candidate what is their most comparable-similar accomplishment.
Forget about your skills, knowledge, prior experiences, style, behaviors, values, and all the other little things that make you a wonderful candidate. If there is NOT a high probability based on behavioral interviewing techniques focused on the defined results – you're too high risk. You might be able to achieve the outcomes required, but the risk of failure is too high to justify investing more time in the interview.
DON'T HOLD THIS METHODOLOGY AGAINST ME! I'm not a bad person. You're not a bad person. You'll be a great asset to some company – unfortunately NOT my client at this moment in time. I'm performing my role as a recruiter using best practices of interviewing and effective time management to produce results for my clients. It's a function of the recruiting business model.
Here are some examples to illustrate HOW YOU GET ELIMINATED IN THE VERY FIRST INTERVIEW QUESTION (We define this structured approach in our best practice methodology which we call the Success Factor Methodology):
Result Needed: Reduce the accounting closing process from 21 days to 8 days within 3 months.
Question: Can you give me an example of a significant comparable accounting process that you improved or changed?
Result Needed: Grow profit as a percentage of revenue over a 3-5 year period regardless of revenue and economic cycles.
Question: Please describe a comparable accomplishment where you were the President of a business over a 3-5 year period  and achieved an improved profit percentage each year.
Result Needed: Increase sales by 15% year over year for the next 3-5 years.
Question: Can you describe a comparable accomplishment of growing sales by at least 15% year over year when you've led the sales function/team over a 3-5 year period.
If you can't answer the first question about the game-breaker outcome, nothing else matters. Neither I OR my clients are willing to take the risk that you "might" be able to do it.
You can learn more about best practices that recruiters and employers use to screen and evaluate YOU as a candidate by reading about our Success Factor Methodology. We've named our process – but any effective implementation of recruiting/interviewing best practices encompasses these 5 steps. Discover the primary interview questions that quickly eliminate most candidates.
Barry Deutsch
Don't forget to join our LinkedIn Job Search Discussion Group where you can talk about the issues, problems, frustrations regarding your job search and get direct answers from two of the top retained recruiters and thousands of other job seekers.
P.S. Download our FREE Cover Letter Sample. The Resume and the Cover Letter are the first two things the BEST recruiters look at before picking up the phone to call you. If you don't give them a tease/hint that you've accomplished something similar to there game-breaker objectives, you will NOT even receive a phone call. Click here to get our FREE Cover Letter Sample Format to address the game-breakers.