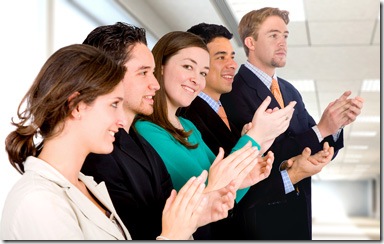 Lots of people care!
Your network wants to be given an opportunity to clap for you!
That's why you should be updating your status every 24-48 hours.
Your network wants to know how your job search is progressing
Your network wants to know the type of companies with whom you're interviewing
Your network wants to know the executives with whom you're interviewing
Your network wants to know the techniques you're using to generate job leads and referrals
They want to hear about the silly interview questions you've been asked, the most intelligent questions, the ones that were easy and ones that stumped you.
Your network wants to be able to support you in your job search. If they don't know what you're doing, how could they possibly support you?
Status updates are the amazing simple short statements about what you're doing that you feel is important to share with you network. You have 140 characters to type a status update. Each time you type a status update, everyone in your network will see it on their home screen when they view network status updates.
This is one of the most powerful tools LinkedIn offers and yet, very few networkers use it – forget effectively – they don't bother to update their status at all – what a waste of a free networking tool.
I am a master networker. Many of you know that I am a LinkedIn Networking Expert. I teach and coach networking to some of the most successful coaches, CEOs, Presidents, and senior executives. How does a master networker and LinkedIn Networking Expert use status updates in social networking?
SECRET HINT: Think of your status updates as frequent alerts to keep your network aware of what you're doing, how it might impact them personally, and as a "marketing" tool to keep your "brand" in a top-of-mind presence with them every single time they log onto LinkedIn.
Every day or two, I take a moment and I type a short statement about something I think a large portion of my network on LinkedIn might like to hear about.
Have I just written an interesting new blog post

Have i just attended a life-altering workshop on self-motivation

Did I just read a passage from Daniel Pink's new book, Linchpin, that I wanted to share before I forget it
Are the 3 ideas I got out of the on-line webinar this morning that Brad Remillard taught on Leveraging LinkedIn in your job search (you like the way I worked that shameless plug into my blog post?) valuable to share with others?
All kidding aside,
My partner, Brad Remillard, will be leading a powerful webinar on March 26th to teach you how to leverage all the LinkedIn tools  to find your next job through LinkedIn.

CLICK HERE to sign up right now for this unique LinkedIn Job Search webinar.

Only our private job search network of loyal readers here on our blog, in our LinkedIn Discussion Group, and those who have downloaded our FREE Job Search Tools will receive this special discount.

If you get ONE great idea from this webinar on how to improve your job search, it will have been worth the investment of time. NOT ONLY will you get one idea, I'll guarantee you'll get a dozen ideas that you can immediately implement within hours of completing the webinar.
After you finish the webinar, Brad and I would love to hear about the 12 different things you started doing on LinkedIn, such as updating your status more frequently, and which ones immediately started to work for you.
Barry Deutsch
PS – would it help if we put together a status update checklist (like a daily dozen status update ideas) that you could use every day to go down the list and say "I did #2 yesterday, today I'll do #9)?