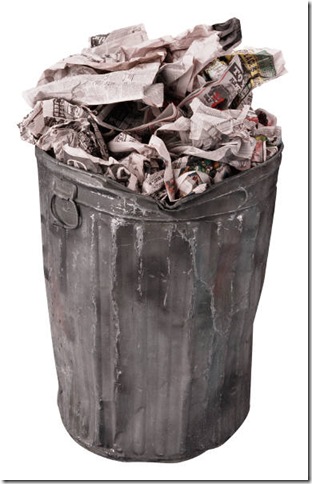 Not having an effective LinkedIn Profile for your job search is the same as having an ineffective resume that gets tossed into the trash can all the time. STOP letting your online resume (LinkedIn Profile) be thrown in the trash!
LinkedIn provides an extraordinary online tool – your profile – a virtual resume and portfolio for you to do personal branding, self-promotion, and lay out a portfolio of your abilities, skills, and accomplishments.
The entry level account is FREE. This is the proverbial "no-brainer". So, why are most profiles WORTHLESS? Why don't professional job search candidates at managerial and executive levels consider this an important part of their job search?
TEST OF LINKEDIN PROFILES FOR JOB SEARCH
I'm in the middle of conducting a retained executive search for a Sales Executive. Like most recruiters, I'm using the search function in LinkedIn to find executives in specific industries and geographic areas. Everyone knows that LinkedIn is a significant tool for sourcing in the hands of recruiters, human resource professionals and hiring managers. I'm only searching for candidates that have flagged their account that they are open to career opportunities. I've now reviewed over 400 profiles.
Less than 20% have anything beyond a "skeleton" set of information.
Less than 2% have a decent profile fully completed with extensive descriptions of their accomplishments, an outstanding summary, lots of recommendations, and have their contact information (such as phone number and email address) available.
Less than 1% have taken the time to really leverage all the tools LinkedIn provides on your profile – slide presentations, attaching documents, reading lists, linking your blog and twitter accounts, and on the list goes. It's absolutely amazing the value LinkedIn provides to job seekers.
As a recruiter reviewing profiles, it takes me about 5 seconds to look at a profile and make a first impression of whether I want to continue looking at it. If the profile is not complete, I will not bother to spend any more time with that potential candidate. You've just missed an opportunity which could have been the ideal job to move your career forward after you've been out of work for 9 months.
CONFUSION – WORTHLESS LINKEDIN PROFILES
I DON'T GET IT!
WHY DO THE VAST MAJORITY OF JOB SEEKERS HAVE A WORTHLESS ONLINE RESUME (LINKEDIN PROFILE)?
IS IT NOT TIME TO FIX THIS OBVIOUS OVERSIGHT?
HOW MANY JOB OPPORTUNITIES HAVE SLIPPED BY YOU BECAUSE RECRUITERS LIKE ME HAVE SKIPPED OVER YOUR WORTHLESS ONLINE RESUME (LINKEDIN PROFILE)?
IMPROVE YOUR LINKEDIN PROFILE NOW
Brad and I have spoken extensively about the need to fully flush out your LinkedIn Profile as one of the tactics in an effective job search. We've talked about it in our weekly Internet Radio Talk Show. You can download the specific episodes about LinkedIn from our broadcast archive.
We even put together a FREE one-page LinkedIn Profile Self-Assessment Scorecard to determine if your LinkedIn Profile is effective in being found by recruiters, HR professionals, and hiring managers. You can download the Scorecard right now and frighten yourself on your inadequate profile. You might want to also bang your head on the wall a few times over the potential job opportunities for which you've been ignored.
Take action right now and fix this simple element of your job search. STOP being ignored. Create a profile that allows you to instantly capture the attention of recruiters, HR professionals, and hiring managers that are looking for someone JUST LIKE YOU.
Barry Deutsch
Don't forget to join our LinkedIn Job Search Discussion Group and learn how to improve the effectiveness of your job search through leveraging the tools LinkedIn provides to create a powerful job search profile.